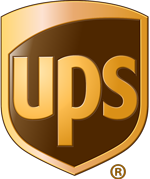 UPS Courier Service at Catford Couriers - London and Kent
Deliver More with UPS at Mail Boxes Etc.
Our relationship with UPS is unique in the transportation industry. UPS operate a range of highly reliable express and expedited shipping services for all items from document envelopes to large parcels. Catford Couriers select UPS as our primary shipper of commercial goods delivered to business address destinations worldwide.
Catford Couriersare also the only route for shipping personal belongings and effects via UPS to over 20 major countries worldwide. Ask us for details of this service.
Through its network and technical expertise, UPS is able to offer the industry's widest range of time-definite and scheduled delivery services, through Catford Couriers. We provide you with the opportunity to make a balanced choice between speed and economy whenever you're shipping.
---
UPS Express
For next morning delivery across the EU and fast delivery across the world.
---
UPS Express Saver
For next day delivery across Europe and fast, economical delivery to North America, Asia and Africa.
---
UPS Standard
For scheduled delivery across Europe.
---
UPS Expedited
For less urgent delivery outside Europe.
---
UPS Express Plus
For next day delivery within Europe and to North America by the start of the business day for very urgent shipments.
If you want to know more about the extensive range of UPS services available at Catford Couriers please contact us on 0208 297 0321.